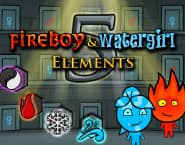 Fireboy and Watergirl 5: Elements Walkthrough
Description
Fireboy and Watergirl 5: Elements
Fireboy and Watergirl 5: Elements is the fifth adventure in the arcade game series Fireboy and Watergirl. In these games, you have to help the two protagonists – a boy made of fire and a girl made of water – solve all the puzzle platform levels and reach the exit safely. Each character is impervious to their own natural element. Fireboy cannot be harmed by lava, but will be extinguished if he touches the water. Watergirl cannot be hurt by water, but if she touches the lava she'll go up in steam. This means that there are areas within each level that are only accessible to one of the two characters. Get each of your protagonists to help the other pass the obstacles that are dangerous to them. The brightly coloured poison goo is lethal to both characters, so watch your step around that stuff!
Teamwork is essential because it takes both of the two best friends to complete each level. If one character doesn't make it, neither will the other. You can try the challenge of controlling both characters by yourself (either one by one or simultaneously if you can handle it), or you can share the keyboard with a friend so that you can each control one character. Good luck playing!
Developer
The game Fireboy and Watergirl 5: Elements was created by Oslo Albet.
Want to Play More Fireboy en Watergirl Games?
Fireboy and Watergirl are seasoned adventurers. Check out their four other adventures, set in the Forest Temple, the Light Temple, the Ice Temple, and the Crystal Temple.
Control